Floodwall and Levee Near Dyke Marsh Is Questioned
In June 2022, the U.S. Army Corps of Engineers' (ACE) proposed a "tentatively selected plan" to build a floodwall and levee in the Belle Haven, New Alexandria, Belle View and River Towers areas of Fairfax County near the Dyke Marsh Wildlife Preserve.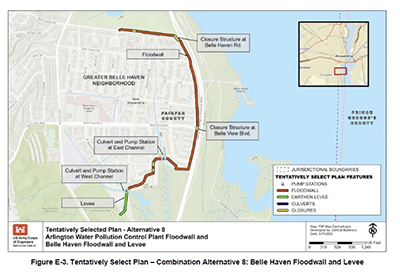 You can see the plan from our Taking Action page.
In Appendix G, the draft describes the proposal as a "levee/floodwall system" of "6,725 total linear feet consisting of 1,900 linear feet of I-Wall, 3,715 linear feet of T-Wall, 400 linear feet of earthen levee and includes five aluminum stop-log closures and two culvert crossings. Pump stations will be located in uplands at the location of the two culvert crossings."
On August 29, 2022, the Friends of Dyke Marsh (FODM) submitted a Freedom of Information Act (FOIA) request to the U.S. Army Corps of Engineers (Corps), requesting all comments and any suggested alternatives submitted to the Corps on their May 2022, draft proposal, called an "Integrated Feasibility Report and EA."
FODM submitted comments stating, among other points, that the study fails to fully consider all alternative coastal flooding management approaches, the agency's rationale and the reasons for eliminating certain approaches. FODM's comments are available from our Taking Action page.
Among other flaws, the Corps' proposal –
ignores the total river ecosystem of the middle Potomac River Basin;
fails to include or provide for an "impairment assessment" by the National Park Service;
inadequately recognizes the historic designation and character of the George Washington Memorial Parkway;
ignores further restoration of Dyke Marsh;
understates wetlands' flood control potential;
inadequately addresses environmental impacts; and
inadequately evaluates possible threatened and endangered species.
On our Taking Action page we also share with the public (1) FODM's summary of all the public comments submitted to the Corps of Engineers and provided to FODM in response to our FOIA request as well as (2) links to all of the comments submitted to the Corps of Engineers.