President's Message
Summer 2017
Glenda Booth
FODM President
Toward Healthier, Haul Road Habitat
The Haul Road trail is the only way many visitors experience the preserve. Unfortunately, the Haul Road was built with fill and both sides are very disturbed and re-disturbed, overrun with non-native plants like porcelain berry, English ivy, multiflora rose and Japanese honeysuckle.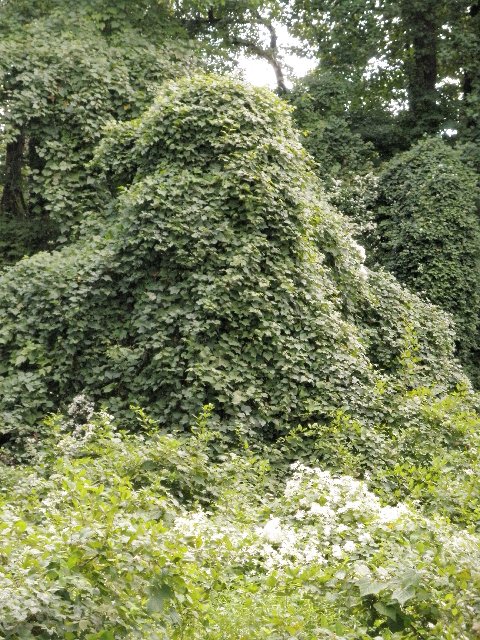 Vines of the invasive porcelain berry smother valuable native habitat. Photo by G. BoothGenerally, non-native plants are introduced both intentionally and accidentally into an area far from their native habitat and they often cause ecological and economic harm. Invasive plants have few controls or lack natural controls such an insects and disease to keep them in balance. Many invasives can out-compete native plants, form a monoculture, reduce biodiversity and destroy native habitats. In Dyke Marsh, plants like porcelainberry smother valuable native plants.
Native plants, on the other hand, evolve over thousands of years with other species and provide habitat and food for wildlife with which they co-evolved. For example, spicebush swallowtail butterflies (Papilio troilus) lay eggs exclusively on plants in the Lauraceae family, like spice bush (Lindera bezoin), sassafras (Sassafras albidium) and tulip tree (Lirodendron tulipfera). Monarch butterfly (Danaus plexippus) caterpillars appear to feed exclusively on milkweed plants in the genus Asclepias and butterflies need these plants to lay their eggs. Invasive plants typically do not provide this type of support for insects, birds and other wildlife.
Working with the Park Service, FODM hopes to create a demonstration area up to an acre along the Haul Road to better control invasive plants and support native plants. This is a major, expensive and long-term undertaking, but we believe the area should have more ecological integrity. After all, Congress intended that Dyke Marsh be a nature preserve, not an infestation of invasives. We hope that this project can also educate the public and officials about the value of native plants and the need for restoration. More aggressively controlling invasives could improve visitors' outdoor experiences as well. If you would like to help, please email me.
Stopping Sediment Pollution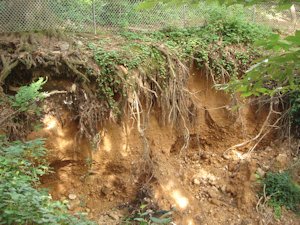 The failing outfall in Mount Vernon District Park, 2014, gouged out streambanks. Photo by Glenda BoothThanks to Fairfax County, Dyke Marsh West will hopefully not receive as much sediment now as it has in recent years. FODM thanks the county for completing a major project to repair a failing stormwater outfall in Mount Vernon District Park. In 2014, FODMers observed the marsh turning orange during storms. We contacted county officials who identified a massive, eroding gully 20 feet deep, over 50 feet wide and 200 feet long that was sending sediment downstream during storms.
The project attempts to stabilize streambanks and slow the runoff's velocity. It includes riprap, plunge pools, logs and other approaches to slow the water's flow. The county has planted native trees, grasses and plants to restore the area disturbed by construction.
At our urging, the county prioritized the project, started construction in August 2016 and completed it in April 2017. To learn more about the project, visit the Fairfax County website.
Nature's "Shows"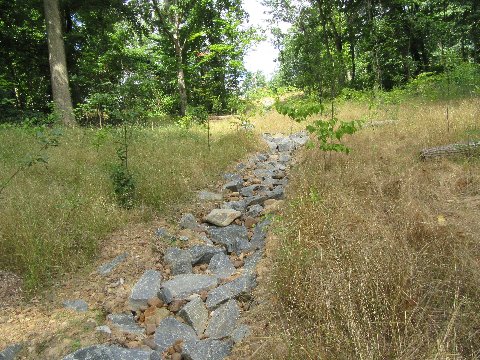 The completed restoration has riprap, plunge pools and native plants and trees. Photo by Glenda BoothOne fan reported a firefly "explosion" in the marsh in late June, writing, "It is like being in the middle of the Milky Way." FODMers captured many special moments in photos, including a female yellow warbler stripping nesting material from a vine and later sitting on her cup nest and least bitterns arriving and hiding in the vegetation (Ed Eder). One day, 200 cedar waxwings roosted on the Haul Road. Surveyors identified nine butterfly species and eleven dragonflies on June 20, including 125 big bluets, 26 black saddlebags, 50 Needham's skimmers and one wandering glider. Check out our website and Facebook.com.
Dyke Marsh is included as a Fairfax County bird watching destination in the August issue of Birdwatching magazine.
Glenda C. Booth