Map and Directions
From Alexandria, Virginia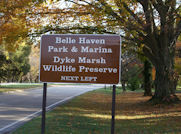 Travel south from Old Town, Alexandria on the George Washington Memorial Parkway towards Mt. Vernon. After crossing the stone bridge at Hunting Creek (unmarked), take your next left at "Belle Haven Park & Marina/Dyke Marsh Wildlife Preserve." For parking, after turning east from the parkway, take the first left to the Belle Haven Park parking lot. The south or first lot is closest to the Haul Road Trail. The trail out to the marsh is beyond the bike path, on the right, but be sure to scan the cove in front of the picnic area for waterfowl and eagles. The Sunday morning walks meet at 8 a.m. in the south parking lot of the Belle Haven picnic area. (See the "P" in the map below.) Walks are led by experienced birders and all are welcome. Many other walks and activites meet at the Haul Road entrance. (See the yellow arrow in the map below.) The Haul Road is a dirt/gravel road or path, shown by a green dashed line on the map, which leads out into the marsh and river.
How to Visit the Preserve without a Vehicle:
You can visit Dyke Marsh Wildlife Preserve without a vehicle by taking a 10-minute bus ride from Huntington Metro Station. Take the Fairfax Connector bus 101, 151 or 152. Go to the Fairfax Connector website for the schedule.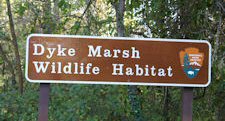 Get off the bus at Belle View Boulevard and Wakefield Drive across from the Belle View Shopping Center. Walk east on Belle View Boulevard about three blocks to the George Washington Memorial Parkway. Cross the parkway and walk north about 1/3 of a mile to the Dyke Marsh Wildlife Preserve sign and turn right or east on the entrance road. The pedestrian entrance to the wetland is a dirt/gravel road called Haul Road on the right at the sign marked Dyke Marsh Wildlife Habitat. (See map below.)