Dyke Marsh Turns a Brilliant Yellow
In the late summer and early fall, parts of Dyke Marsh turn a brilliant yellow. The yellow blossoms are typically plants in the family Asteraceae.
Many of the plants are Bidens laevis, common name, beggar-ticks, says botanist Dr. Elizabeth Wells, and she explains that they are restricted to low, wet places such as marshes. The name Bidens refers to the two teeth on each achene (Bidens = two (bi) teeth).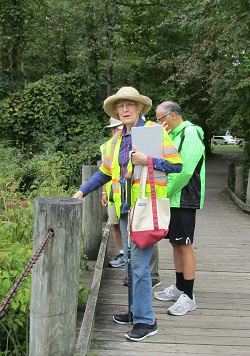 Dr. Elizabeth Wells, a botanist, led a plant walk in Dyke Marsh on September 14, 2019. Photo by Ned StoneOn September 14, Dr. Wells led a plant walk on the bridges across from Tulane Drive. In addition to other expert observations, she showed participants, for example, the fruiting structure of green arrow arum, which she said, "looks like a dead goose's head on a long neck."
Photos contributed by Glenda Booth.