The Government Shutdown: Bird Walks Continue; Report Harm
During the current federal government closure, as of January 2, 2019, people can access the Dyke Marsh Wildlife Preserve trail and our Sunday, 8 a.m., bird walks are allowed. Therefore, the walks will resume on January 6. All restrooms are closed.
The National Park Service website (www.nps.gov) says that "for most parks, there will be no National Park Service-provided visitor services, such as restrooms, trash collection or facilities or road maintenance."
Report Any Harm that You See in GWMP Parks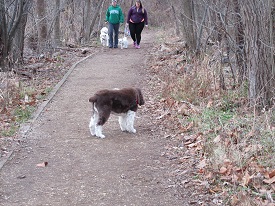 Without an NPS presence, people are tempted to allow dogs to roam.George Washington Memorial Parkway officials request that visitors to Dyke Marsh and other units of the parkway report any harm to park resources. There are media reports of unauthorized activities on some park lands across the U.S. like decorating trees, running dogs off-leash and flying drones. Trash is accumulating in many parks. Be sure to take your trash out of the park.
If you observe any harm to the George Washington Memorial Parkway's resources, including those in Dyke Marsh, please report that to us promptly at This email address is being protected from spambots. You need JavaScript enabled to view it.. In our view, the shutdown puts our national parks at risk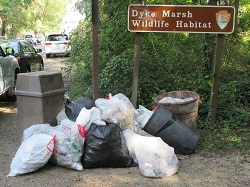 Without NPS trash pickup services, trash will accumulate.For emergencies, call 911. Otherwise, the Parkway police can be reached at 703-285-1000.
The Department of Interior has posted shutdown information here: https://www.doi.gov/sites/doi.opengov.ibmcloud.com/files/faq.pdf. The National Parks and Conservation Association provides some useful information at https://www.npca.org/articles/1733-what-does-the-government-shutdown-mean-for-national-parks-and-park-visitors.