Volunteers Collect 50 Bags of Never-ending Trash
The Friends of Dyke Marsh and the National Park Service hosted 35 volunteers, ages five to unknown, who collected 50 big bags of trash for three hours along the Potomac River and Dyke Marsh shoreline during low tide on September 22.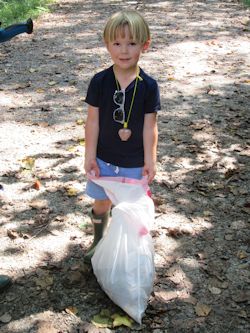 Charlie Poliakoff with his trash bag.Thank you to our dedicated volunteers, including Charlie Poliakoff, age 5; Scott and Emily Medlyn (Scott hauled out one of two garbage cans); and FODMer Greg Crider, NPS ranger Kelly Clark and FODMer Trudi Hahn.
Pictured are some examples of the trash amassed in just three hours: plastic bottles, Styrofoam bits, bottle caps (5 minutes of collecting), a car motor, a "fresh" cigarette with its ashes and the final pile. We also found a gas can, a soaked sofa cushion, fast food wrappers, straws and more. Please help us stop trash at its source so we don't have to have cleanups.
Photos contributed by Glenda Booth.