Wildlife Adapt to Flooding Tides
In the spring of 2018, the combination of heavy rains, easterly winds and normal tidal fluctuations due to the moon's and sun's gravitational effect created flooding tides in the wetlands of the Dyke Marsh Wildlife Preserve. Visitors saw mammals, birds, reptiles, insects and crustaceans foraging on or near the shores and tidal guts. Some altered some of their foraging patterns, moving to the trails or higher ground than they normally use. Observers saw abundant land snails climbing cattails and other marsh vegetation.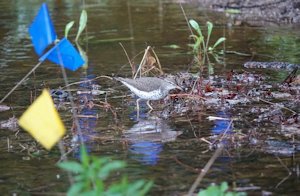 Spotted sandpiper
Crayfish, spotted sandpipers, raccoons and other "critters" of the marsh have adapted by climbing on to the areas of debris fill along the Haul Road trail.
FODMer Ed Eder photographed several critters, including a crayfish, muskrat, snail, Eastern rat snake and a raccoon hiding behind poison ivy and marsh grasses in May. He snapped photos of spotted sandpipers amid the colored flags noting native plants that volunteers planted in May in the Haul Road native plant demonstration area.