Volunteers Restore Habitat in Dyke Marsh
On May 9, 2018, 20 dedicated volunteers and National Park Service (NPS) staffers planted around 1,500 native trees and plants on .65 acres on the west side of the Haul Road trail in Dyke Marsh. Among others, the group planted spicebush and winterberry; trees included sycamore, tulip tree, cottonwood, maples and black gum; "phorbs" included wing stem, pyeweed, tick-trefoil and moonflower vine plus grasses such as deer-tongue, Virginia rye and riverside rye.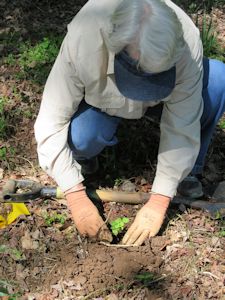 This is the first phase of the FODM native plant project and part of the overall restoration of Dyke Marsh in an area that is overrun with invasive plants like English ivy, porcelainberry vine and stilt grass. Native plants support native insects, birds and other wildlife with which they co-evolved. Most ecologists maintain that areas of native flora and fauna are healthier habitats than those with non-natives.
The Friends of Dyke Marsh appreciate our partners – NPS, Earth Sangha and the Audubon Society of Northern Virginia (ASNV). We also appreciate the grant support we have received from the National Environmental Education Foundation, Earth Sangha and ASNV. We need more volunteers for more planting and monitoring. You can sign up at This email address is being protected from spambots. You need JavaScript enabled to view it..
Photos contributed by Glenda Booth.