80 People Tackle Trash
With clear blue skies, a bright sun and a gentle breeze, 80 eager volunteers cleaned up trash along the Dyke Marsh and Belle Haven Park shoreline on April 14, 2018, for three hours at low tide. Many youngsters got school service credit. Everyone got exercise and a great feeling of accomplishment as the bags piled up.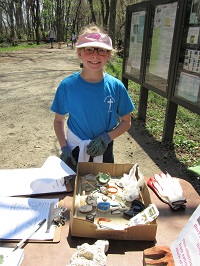 Rhyse SmithPlastic bottles, aluminum cans, Styrofoam and fast food debris seem endless. Among the intriguing finds were some mysterious metal rods, a charcoal grill, a rusty boat anchor and a rubber ducky!
In the photo at right, Rhyse Smith explained FODM's trash display to volunteers, stressing that everyone should pick up small items too, that birds, fish and other critters can die from eating things like Styrofoam bits and cigarette butts and from getting entangled in plastic.
The Friends of Dyke Marsh thank everyone, including Miguel Roberson and Trudy Roth from the George Washington Memorial Parkway, National Park Service. The cleanup was part of the Alice Ferguson annual Potomac River Watershed Cleanup.
Photos for this article were contributed by Glenda Booth unless credited otherwise.
| | | |
| --- | --- | --- |
| Jospeh Ienzi and his mom, Catherine, lugged in multiple bags. | Zeek Coleman collected trash bags while his dad photographed bald eagles. | Sam and David Starr landed a large yellow lid. |
| David Temple and Emmet and Melissa Behl found a red ball. | An enthusiastic group from Good Shepherd Catholic Church cleaned up trash along the Potomac River shoreline. Photo by Susan Gunder | NPS staffers hauled away the collected trash. |