Mammals Stand Out on an Icy Dyke Marsh
The January 2018 cold snap and days of subfreezing temperatures brought out winter's beauty in Dyke Marsh. Particularly stunning against the icy white background was a red fox (Vulpes Vulpes), photographed by Ed Eder on January 2 off the boardwalk. The fox was prying a piece of dead fish embedded in the ice as another fox called. Eventually, the vocalizing fox joined the foraging fox.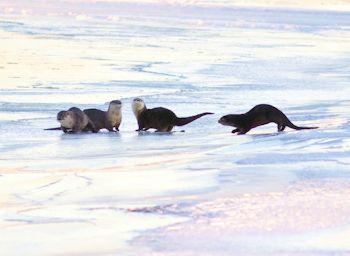 On January 6 Ed snapped photos of four river otters (Lontra canadensis) that caught two carp and devoured them on the ice. River otters, semi-aquatic mammals, have a "secretive and mostly nocturnal nature" which makes them difficult to see, according to the Virginia Department of Game and Inland Fisheries (DGIF). DGIF once listed these otters as state endangered, but after DGIF's restocking efforts and a trapping ban west of the Blue Ridge, today, river otters are "relatively common throughout Virginia," says DGIF.