Celebrating Juneteenth 2022
On June 18, 2022, the Friends of Dyke Marsh again participated in the annual Gum Springs Community Day and celebrated Juneteenth with our friends.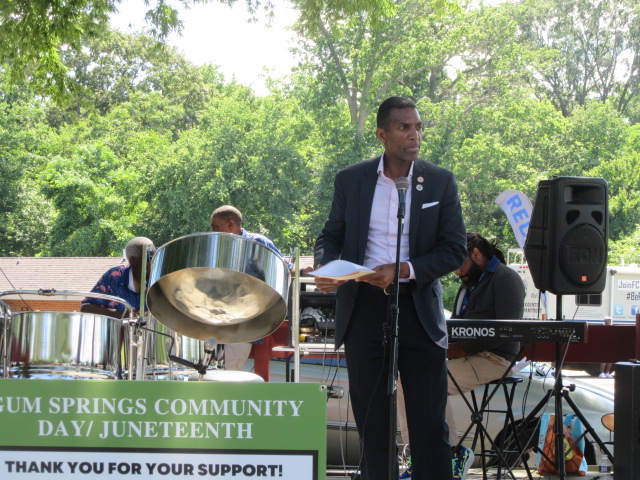 Lee District Supervisor Rodney Lusk talked about the county's African American heritage.
All photos by Glenda Booth
Gum Springs is a historic African American community in eastern Fairfax County founded by West Ford, a man enslaved at the Mount Vernon plantation by George and Martha Washington.
| | | |
| --- | --- | --- |
| | | |
| The FODM table's birds to color were popular. | | At the FODM table, youngsters colored birds and made them "fly." |
At the event, we had "flying" birds for youngsters to color, but our bird activity faced stiff competition with the whale bubbler which spewed bubbles galore and enchanted many youngsters.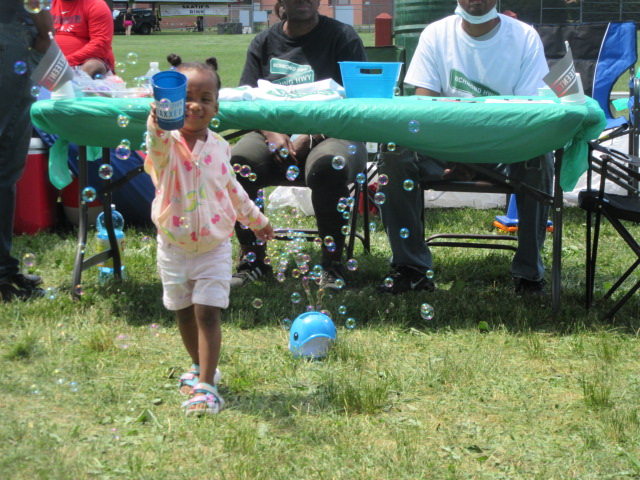 Youngsters delighted in trying to "catch" bubbles.
Thank you to FODMers Carolyn Gamble, Dorothy McManus and Dixie Sommers who staffed our table.
| | | |
| --- | --- | --- |
| | | |
| FODMers Carolyn Gamble and Dorothy McManus talked to 8th District Congressman Don Beyer who stopped by the FODM table. | | FODMer Betsy Martin and Mount Vernon Supervisor Dan Storck promoted Dyke Marsh. |